SMC/FRP Meter Boxes & Other EPP Electrical Products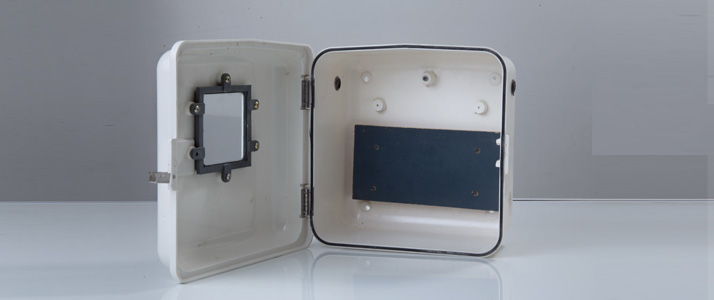 SMC is a hot press moulded advanced plastic composites used by EPP engineers to produce SMC meter box, SMC electric junction box and other variety of electrical products. These ranges of products are free from all the issues of rusting, denting, splitting, maintenance, etc. There are certain points for design and construction of SMC meter boxes that EPP experts want you to remember-
Minimum inside dimensions of the meter box should be suitable for installing distinct meters that users get from the market.
The meter box is crafted with anti-corrosive, rust proof, dust proof, water proof, UV protected and flame retardant high grade material that should have great dielectric and mechanical strength properties.
The base of the meter box and cover should have at least two similar wire sealing holes for sealing purposes
EPP experts test the meter box as per the IS standards. Each test is performed in the laboratory that is accredited by the standard government bodies to ensure that the meter box meets all the requirements and safety standards.

Various types of testing includes-
Flammability
Self extinguishing
Glow wire test
Ball pressure test
Heat deflection temperature
Water absorption
Mechanical strength
Marking, dimension, and built
UV ageing test
Light transmission
EPP composites Pvt. Ltd. experts among leading suppliers of SMC electrical products like electric boxes. They have a team of experienced skilled workers that offers reasonable competitive priced products to stand ahead of the competitors.

Having more than thousand of satisfied customers with our workmanship, we ensure good quality products that meet all required standards and customer's specifications.

You can put requests in a mail and send us at our email address directly. To inquire about SMC meter box, navigate to our inquiry page.
Salient Features
Technical Specifications
Quality Specifications
Salient Features
Single piece molded without any joints
Concealed metal hinges
Mounting screws fitted from inside
Metal hardware for wire seal
Adequate space for meter and cutouts
Wide range for different applications
Lightweight, yet strong
Weatherproof
Prices matching conventional meter boxes
Shockproof
Free from pilferage
Maintenance-free
Lower thermal conductivity and Good adaptability dimensional stability with UV resistance and Flexibility in design
Technical Specification
Range & Specifications
Code No.
Inside Dimensions (mm) H x W x D
Description
EPP SP 2520
250 X 200 X 105
L.T. 1 phase kwh meter
EPP SP 2522
250 X 220 X 135
L.T. 1 phase kwh meter
EPP SP 2525
250 X 250 X 160
L.T. 1 phase kwh meter
EPP TMB 350270
350 X 270 X 210
Kwh Meter
EPP TMB 375270
375 X 270 X 210
Static Meter
EPP TMB 390225
390 X 225 X 140
Kwh Meter
EPP TMB 400300
400 X 300 X 210
Kwh Meter
EPP TMB 450375
450 X 375 X 200
Kwh Meter
EPP MMMB 570280
570 X 280 X 215
HT TVM with TTB
EPP MMMB 650350
650 X 350 X 255
1 PH X 4;3 PH X 3
EPP MMMB 700480
700 X 480 X 210
1 PH X 4/6; 3PH X 4
EPP MMMB 650350 DD
650 X 350 X 255
1 PH X 4/3; PH X 3
EPP MMMB 700480 SD
700 X 480 X 210
1 PH X 4/6; 3PH X 4
EPP DTCMB 810350 DD
810 X 350 X 250
LT TVM With CTS
EPP LTCTMB 900350 DD
900 X 350 X 250
LT kwh/TVM with Fuses
EPP LTCTMB 900450 DD
900 X 450 X 250
LT TVM with CTs
EPP TMB 350270
350 X 270 X 210
Kwh Meter
EPP TMB 375270
375 X 270 X 210
Static Meter
EPP TMB 390225
390 X 225 X 140
Kwh Meter
EPP TMB 400300
400 X 300 X 210
Kwh Meter
EPP TMB 450375
450 X 375 X 200
Kwh Meter
EPP MMMB 570280
570 X 280 X 215
HT TVM With TTB
EPP MMMB 650350
650 X 350 X 255
1PH X 4;3 PH X 3
EPP MMMB 700480
700 X 480 X 210
1PH X 4/6; 3PH X 4
EPP MMMB 650350D
650 X 350 X 255
1PH X 4; 3 PH X 3
EPP MMMB 700480 SD
700 X 480 X 210
1 PH X 4/6; 3PH X 4
Quality Specifications
Qualification as per Customer specifications