FRP Pultruded Grating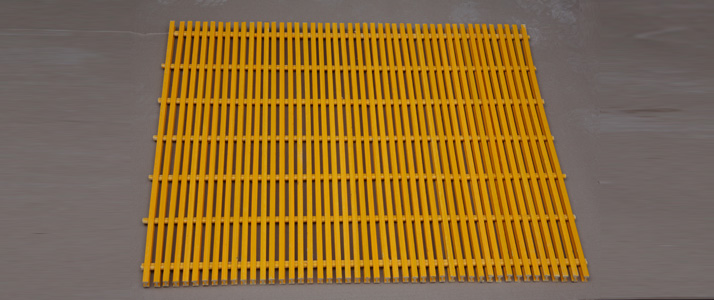 Description
Being trusted FRP Pultruded Grating manufacturers in India, we are popular for unmatched quality standards and on-time deliveries. We offer highly innovative product solutions to our clients based on latest tools and techniques.

This is our experience only that we are able to deliver precise FRP Pultruded Gratings to our clients. Our modern FRP gratings have smartly replaced the traditional products. Today, all of the products are manufactured or prepared by advance manufacturing process and quality designing standards.
Why to choose FRP Pultruded Gratings from EPP composites?
Our products are corrosion resistant, 100 percent environmental friendly and safe in use.
They are always prepared with advance manufacturing techniques. Hence, scrap content is almost zero.
We make sure that our FRP gratings should be lighter in weight so they can be installed or handled with ease.
With our experience and industry knowledge, we have acquired trust and confidence of our customers with our superior product range and high quality of services. We also give custom solutions to our clients that make us most reputed FRP Pultruded Grating manufacturers across India and worldwide.

Further, our products are tested on various quality parameters for mechanical and physical properties to make sure that end product suits your project requirements perfectly. The customized product solutions for FRP gratings make our product pretty much suitable for varied industrial applications.

For customized product solutions, you just have to share your project requirements with us and get innovative product solutions as required.
Salient Features
Good Corrosion and Weather Resistance
High Physical and Mechanical Strength
High Strength to weight ratio
Highly Durable
Lower electrical & thermal conductivity
Good adaptability & dimensional stability
UV resistant, Aesthetically appealing, Flexibility in design, Light in Weight and hence easy to handle and install
Sturdy and Structurally Stable
Non Skid Surface
Economical & cost effective
Technical Specification
Our FRP Pultruded Grating supplied in it's length, width & height as per customer requirements.
Design Standards
As per customer specifications
ASTM D 3917 - 96
Size
Standard: Width - 1200mm , Length - 2400mm
Standard Thickness: 25mm , 38mm & 50mm
Material of Construction
FRP Pultruded Sections with Polyester Grade Resin composition with Fiberglass
Quality Specifications
As per ASTM D 3917-96
OSHA