SMC Manhole Covers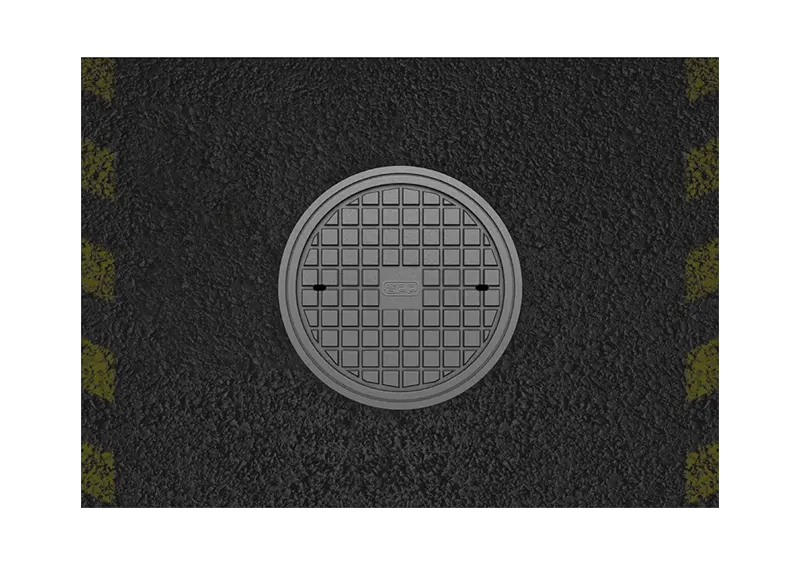 SMC Manhole covers are made from thermosetting composites materials such as glass fiber and resin for long-term durability. It is 60% lighter than traditional precast concrete and cast iron covers. provides up to 4-5 times more strength.
They have been thoroughly tested for load bearing & permanent set as per BS EN 124: 1994 & AASHTO M306 standards for drainage and utility services. EPP manhole covers meet all the requirements of the code.
Applications
Underground Electrical Cabling l Inspection Chamber for Sewage l Gas & Petroleum Installation l Telecom Cabling l Residential l Commercial l Costal Area
Technical Specifications
SMC materials to produce manhole covers according to EN 124 Standard in A15, B125, C250, and D400 grades.
Depending on the specific application, we will recommend you the best trailor - made formulation to meet your requirement
| Property | Standard | Value | Unity |
| --- | --- | --- | --- |
| Glass Fiber Content | IT.CA-12 | 25-60 | % |
| Shrinkage | ISO 2577 | 0.05-0.20 | % |
| Flexural Strength | EN ISO 14125 | 150-450 | MPa |
| Flexural E-Modulus | EN ISO 14125 | 9000-18000 | MPa |
| Tensile Strength | EN ISO 527-4 | 60-300 | MPa |
| Impact Strength (Charpy) | EN ISO 179 | 60-150 | kJ/m2 |
| Density | EN ISO 1183-1 | 1.7-1.9 | g/cm3 |
| Water Adsorption | EN ISO 62 | <0.3 | % |
| Heat Distortion Temperature | EN ISO 75-2-A | >280 | 0C |
Types of Covers
Circular Manhole Cover
Square Manhole Cover
Rectangular Manhole Cover
Water Gully Cover
Advantages
High Strength
Water Proof
Weather Resistance
Eco Friendly
Fully Traffic Tested
Varieties of Colour