Grp Pipes & Fittings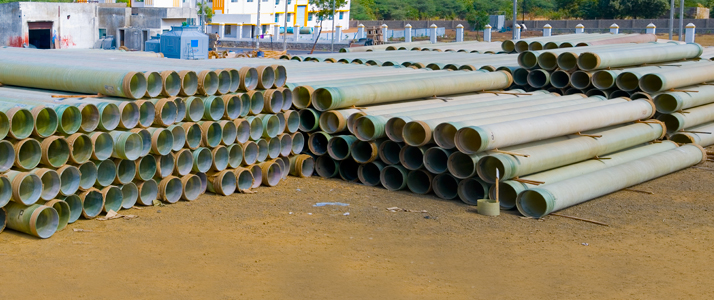 Description
Owing to deep industry knowledge and skilled professionals, we are constantly engaged in manufacturing superior range of GRP pipes since the time of our inception. We make sure that our products are always prepared or manufactured based on current market trends by opting for latest tools and technologies.
What makes us prominent GRP pipe manufacturers, exporters, and suppliers across India?? This is our constant efforts and dedication only that we are able to establish ourselves most trusted GRP pipe manufacturers, exporters, and suppliers across India. Our products are recommended widely for plenty of industrial applications. They can also be availed in custom specifications as needed by our clients.
We also offer design, engineering services, after sales services, assistance to erection, supervision, maintenance, repairs as required by client. We believe in offering total solution to client's requirement.
Grp Pipes Applications
Water transmission and distribution (potable and raw water)
Sanitary sewerage collection system (gravity flow and force main)
Storm water - Effluent water
Sea water intake and outfalls
CoolingTower water line
Industrial application
Irrigation
Odor control piping
Oil field injection piping
Chemical process lines
Fire fighting lines
Ducting
Slip lining for piping rehabilitation
Circulating cooling water, make-up and blow down lines for power plants
Features of our GRP pipes
Our GRP pipes are strictly corrosion resistant and able to withstand strict weather conditions too.
They are non-toxic in nature and don't harm our environment or mankind.
The hydraulic efficiency of our products makes them energy efficient and affordable in nature.
Our GRP pipes have longer shelf life and they are able to perform under heavy pressure as well.
They are pretty much durable, economical and reliable in nature.
They are able to work at different temperature due to exceptional thermal and insulation properties.
Further, our products are light in weight and they can be installed quickly. They are good to maintain proper flow inside pipes even under different temperature or pressure. TO avail quality range of GRP pipes in different dimensions, sizes or designs, contact our manufacturing team now.
Technical Specification
Design Standards
Major Design Standards (As Applicable): AWWA M45, BS 6464, BS 7159, ASTMD 3982, IS0 14692, API 15LR, ASMEB 31.3, DIN 16965 & 16966, AS 2634
DN, PN, SN Class
As per BIS code Diameter Range: 200 mm to 3000 mm
As per AWWA code Diameter Range: 25 mm to 3600 mm
As per ISO code Diameter Range: 50 mm to 4000mm
As per BIS code Pressure Range: 3, 6, 9, 12 & 15 Bar
As per AWWA Pressure Range: 50 psig to 450 psig (0.345 Mpa to 3.103 Mpa)
As per ISO code Pressure Range: 1 Bar to 32 Bar
As per BIS code Stiffness Class: 62, 124, 248, 496 Kpa (A,B,C & D respectively)
As per AWWA Stiffness Class: 62, 124, 248, 496 Kpa (A,B,C & D respectively)
As per ISO code Stiffness Class: 630,1250,2500,5000,10000 N/m2
Size
Pipes are available in various lengths from 3.0 meter to 12.0 meter as required.
Material of Construction
Polyester Resin
Vinyl Ester Resin
Superior Grade Vinyl Ester Resin
Isophthalic Resin
Epoxy Resin
Fiberglass and Silica Sand
Quality Specifications
As per BIS Specifications: IS 12709 & IS 14402
As per AWWA Specifications: AWWA C 950
As per ISO Specifications: ISO 10639 & ISO 10467
For High Pressure Applications: ASTM D 2996
For Oil & Petroleum Sector: API 15 LR up to 1000 PSI
For Thermoplastic Liner with GRP: DIN 16965 & DIN 16966