FRP Tank & Vessels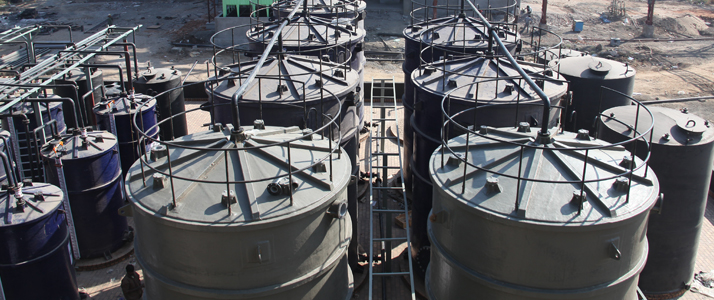 Description
Our organization is strictly committed to deliver high quality solutions in customized shapes or specifications. Our exclusive range of FRP storage tanks are available for Wide Range of applications of fluids from water,acids,alkalis,fire water, raw water etc. Long term life of our tanks due to high strength and rigorous testing on various quality parameters before its final delivery to clients. The trouble free performance of our storage tank is assured by quality raw materials that are taken from leading vendors in the industry.
Unmatched quality standards offered by most trusted FRP storage Tank manufacturers in India …
Our advance range of FRP storage tanks are acknowledged by industries due to high tensile strength, durability and remarkable finishing standards. Backed by experienced and qualified testing team, our products are always inspected on various quality parameters for guaranteed performance. The affordability of our products makes them more reliable for clients.

Our world class range of products is always prepared with advance tools or techniques that make us trusted FRP tank manufacturers and suppliers across India. Our product range is not just limited but we always try to deliver innovative product solutions to our clients as per latest market standards. Our products can always be taken in different quality grades adhering to strict quality standards.
Salient Features
Good Corrosion and Weather Resistance
High Physical and Mechanical Strength
High Strength to weight ratio
Highly Durable
Higher conveying ability due to glossy internal finish & hence less pump loads
Abrasion resistance & Lower thermal conductivity
Resistant to galvanic & stray electrical currents and Excellent thermal insulation
Good adaptability & dimensional stability
UV resistant, Aesthetically appealing, Flexibility in design, Light in Weight and hence easy to handle and install
Ease of fabrication such as cutting, drilling, joining etc
Good Insulating Qualities
Ease of Maintenance with Zero Downtime
Economical & cost effective
Technical Specification
Our FRP tanks & Vessels having a wide range of applications and sizes.
Design Standards
Major Design Standards: BS 4994, ASME RTP-1, ASME Section X
Size
100 Liters to 300 KL
Material of Construction
FRP Moulded and Filament Wound using Isopthalic, Bisphenol, Vinylester and Epoxy Resin
PP & HDPE Spiral Wound
PP/FRP, PPH/FRP, PVC/FRP, CPVC/FRP, PVDF/FRP, ECTFE/FRP, FEP/FRP
Quality Specifications
Qualification as per BS 4994, ASME Section X